Make the Most of your Business Travel
Traveling can always come with tension, but it seems there's even more pressure when it's a business trip. You are on a tight timeline with meetings to attend and most likely, multiple places to be in a short period of time. Using a travel agency, like Chi Chi, which is a St. Louis Travel Agency, can ease your mind as they will help you schedule out all the details of your trip.
Americans make more than 405 million long-distance business trips per year, which means that 1.1 million people per day are traveling for business purposes in the U.S. With the assistance of a business travel agency, every possible trip you take on behalf of your company, can be well organized and successful from the start.
Getting Started
Before you go, contact a reputable travel agency and give them the basic details about your upcoming business trip. An expert team, like a St. Louis Travel Agency, will be able to help you find the most ideal flight to get you to your destination with plenty of time after your arrival to get to your lodging. The agency will coordinate your transportation for you, whether you need a shuttle from the airport to your hotel, or connecting you with a car rental.
The St. Louis Travel Agency will also pay close attention to the exact locations of where you will be meeting and select an ideal hotel to keep you in close proximity to where you need to be. They will get your schedule all lined up, and have a detailed itinerary ready to go, so you can go about your business travels with ease.
Staying on Schedule
You may be attending a large conference at a convention center or your business trip might have you hopping around a city, meeting various clients all over the place. Whatever your itinerary, a St. Louis Travel Agency has the tools to keep your travel on track. Being in a new city for business travel can be overwhelming. Navigating new neighborhoods, finding places to eat, and understanding even just the general traffic flow in a city can add a lot of stress. Are you traveling somewhere like Los Angeles where even going just a few miles can take an hour? Does your destination have public transit? Are there plenty of places within a close radius where you can meet your clients?
A St. Louis Travel Agency would be able to research all of these factors and help you create a travel plan that can cover all those bases. The minute you arrive at your destination you will be lined up for a successful business trip, with peace of mind knowing that all possible kinks that can arise when traveling have been ironed out.
Getting Around Town
Public transit is always a great way to get around when you are in a new city, but knowing which lines or routes to take can be a bit confusing. Having a St. Louis Travel Agency available to plan your travel means having ample research done to know the most effective way to get from point A to point B. The trusted team of agents can plan out exactly to the minute when transit will arrive, what route to take, and what alternative routes you may need to take should there be maintenance on another line. Before your trip even starts, the St. Louis travel agency can be up to date on any planned service changes on public transit, and coordinate the perfect route to get you where you need to be on time.
Outside of public transit, the St. Louis Travel Agency can curate a list of alternative methods of travel, from the best ride-sharing platforms, cab companies, rental car companies, bus or even train schedules to give you plenty of options for optimal transportation.
The Best Places To Stay
Lodging is obviously the most important factor when planning a business trip away. If you are hosting a conference for a large group of people, you'll want a hotel that has those amenities on site, to keep your schedule moving and your attendees engaged. Chi Chi, a trusted Travel Agency in St. Louis, will be able to source out the best location for your travel needs and coordinate with the hotel to book conference rooms for any and all meetings scheduled across your trip.
Your trip could also consist of connecting with clients and business partners at various meeting spots around town, so it would be ideal to have the travel agency get you booked in a hotel at the epicenter of where you need to be so that you can maximize the amount of time to spend with your clients or business partners and minimize the amount of time traveling between places. Your time on a business trip is valuable so utilizing the skills from a travel agency will be beneficial for you and who you need to connect with to make the most of your stay.
Wine and Dine
Let's be honest, a good portion of business travel can revolve around networking and happy hour events. Your business is focused on the purpose of your trip and lining up the details like what presentations need to be made, who your keynote speakers will be, what information is important to communicate to your peers and what people you want to connect with while traveling. Your to-do list is already long enough, so trying to figure out where to host your networking events is a great task for the travel agency to take over.
The team at the St. Louis Travel Agency will take into account how many people will be attending, what your budget is, the type of space you would like to accommodate your guests, and what type of food you would like to serve. Maybe you plan on keeping it simple with some light hors d' oeuvres and a few bottles of wine, or maybe you need a large sit-down meal with a full course menu for your guests.
Catering is another option that the travel agency can consider when planning out your trip for you. You can provide the St. Louis Travel Agency with your list of attendees, even taking into account food allergies, and research local catering companies who can provide delicious meals for your conferences and or meetings.
In Case of Emergency
It's inevitable that hiccups can happen while on a business trip. Delayed flights, missed connections, weather emergencies, lost travel documents and over-booked hotels are all complications you can run into while traveling. Having a St. Louis travel agent on hand to call in case of emergency can make all the difference in stressful situations.
If a flight is delayed and you need to be on a new flight, coordinating this on your own could cost extra, but having a qualified business travel agent means eliminating those hefty costs the airlines like to tack on. They can handle all of the rescheduling and organizing while you continue to prepare for what else is important for your trip.
Business travel agencies, like Chi Chi in St. Louis, have access to industry tools that can provide resources quickly and efficiently. That way if for some reason, your hotel is overbooked, the team can work quickly to secure a room at another nearby hotel with little to no involvement on your part.
Have you considered travel insurance? When using a St. Louis Travel Agency, they will set you up with quality travel insurance that can assist you in case of emergency, especially a medical emergency. Travel insurance is a must when traveling overseas because having that comfort in knowing you'll be cared for should something arise is second to none. If you need medical assistance, with a St. Louis Travel Agency connecting you with travel insurance, those medical expenses you could incur won't be exorbitant amounts that you would have to pay out of pocket otherwise.
Industry Knowledge and Savings
One of the best perks of using a St. Louis Travel Agency is having professional industry knowledge applied to your entire trip. From beginning to end, the travel agency can use its resources to plan out the trip and save you money that you'd otherwise spend when planning the trip yourself. Travel agencies network and make connections with many other industries, like hotels, airlines, travel companies, and hospitality groups, creating more opportunities for savings and having the best possible business trip planned out. The St. Louis Travel Agency will ensure your trip meets all your business travel needs while making it cost effective for your company.
Time is Money
The most valuable reason to use a St. Louis Travel Agency for your business trip is the amount of time you will save. Sure, Google is great and you have access to lots of resources at your fingertips but do you have the time? Business travel already comes with plenty of responsibilities to factor in. You have work to get done. You need to connect with your clients and business partners and coordinate the details of what you will be meeting about. Your day is already booked to the max with other important decisions to make. So allowing a St. Louis travel agency to take the reins on the details of your trip can really save you time for other important duties, and save you money in the end by using the resources the agency has to provide you with an organized, well planned out, successful trip.
Why Choose Chi Chi?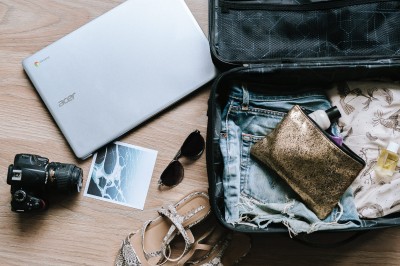 Chi Chi is a trusted team of travel agents with a unique niche in corporate international markets. The team at this St. Louis Travel agency can support your travel needs globally with creative knowledge and expertise. Traveling abroad comes with extra pressure and you need to have more thought put into your travel arrangements. Knowing that in any situation, the team at Chi Chi, can be there to back you up will remove additional worry as you travel in a foreign place. This St. Louis Travel agency will work diligently to streamline and simplify your travel plans and make your trip as seamless and successful as possible.
Even if your company is keeping your business travel plans domestic, the expert team at Chi Chi, will listen intently to all of your requests and requirements and create a custom business trip that is sure to satisfy your company's needs. The St. Louis Travel Agency is dedicated to making the most out of your trip, creating a cohesive and well thought out itinerary, and keeping your safety and well being a top priority.
Does your team deserve some time away? Would you like to do some team building within your company? Chi Chi, LLC's travel experts can help you plan a unique and memorable experience that your employees and clients will absolutely love. Creating a business trip with an emphasis on leisure can make for a stress-free time away from the office where your team can come back rejuvenated. Using their resources, the St. Louis Travel Agency can seek out unique experiences in any location and help you make a custom trip that will be unforgettable. From finding the most popular restaurants, to local events to entertain your guests, having the knowledge of a St. Louis Travel Agency will provide you with an ideal getaway.
Should emergencies arise while away on travel, the trusted team of business travel agents at Chi Chi can be reached any time to assist you and help sort out your schedule. Missed a flight connection at your layover? Call the St. Louis Travel agency and they will work diligently to get you on the next possible flight with the least amount of hassle. Did you book a restaurant for an event on your trip only to find out it can't accommodate the number of people you need to host? Trust the St. Louis Travel agency to do the research and make the call to book your new location.
Whatever the situation throughout your trip, you can count on this St. Louis Travel Agency to meet your needs, be there for reassurance and help in case of emergency, and give you overall peace of mind to remove the additional stress that comes with planning a business trip domestically or abroad. Make sure to contact Chi Chi before your next business trip to see how this expert team at this St. Louis Travel Agency can assist with your business travel needs.